(Pop Punk - Hardcore)
Jeremy - Vocals
Neil - Guitar
Kevin - Guitar
Josh - Bass
Alex - Bass
ALBUMS :
And Their Name Was Treason
1. "Intro"
2. "Heartless"
3. "Your Way With Words Is Through Silence"
4. "A Second Glance"
5. "Casablanca Sucked Anyways"
6. "You Should Have Killed Me When You Had the Chance"
7. "If Looks Could Kill"
8. "You Had Me at Hello"
9. "1958"
10. "Sound the Alarm"
For Those Who Have Hearts
1. "Fast Forward to 2012"
2. "Speak of the Devil"
3. "The Danger in Starting a Fire"
4. "The Plot to Bomb the Panhandle"
5. "Monument"
6. "The Price We Pay"
7. "Colder Than My Heart, If You Can Imagine"
8. "Show 'Em the Ropes"
9. "A Shot in the Dark"
10. "Here's to the Past"
11. "I Heard It's the Softest Thing Ever"
12. "Start the Shooting"
Homesick
1. "The Downfall of Us All"
2. "My Life for Hire"
3. "I'm Made of Wax, Larry, What are You Made of?"
4. "NJ Legion Iced Tea"
5. "Mr. Highway's Thinking About the End"
6. "Have Faith in Me"
7. "Welcome to the Family"
8. "Homesick"
9. "Holdin' it Down for the Underground"
10. "You Already Know What You Are"
11. "Another Song About the Weekend"
12. "If It Means a Lot to You"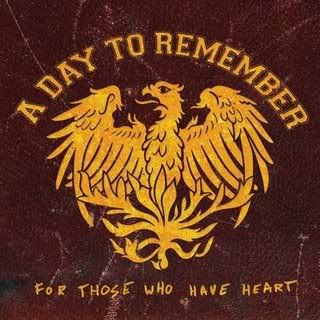 For Those Who Have Hearts Deluxe Album
1. Fast Forward To 2012
2. Speak Of The Devil
3. The Danger In Starting A Fire
4. The Plot To Bomb The Panhandle
5. Monument
6. The Price We Pay
7. Colder Than My Heart If You Can Imagine
8. Show Em The Ropes
9. A Shot In The Dark
10. Here's To The Past
11. I Heard Its The Softest Thing Ever
12. Start The Shooting
13. Heartless
14. You Should've Killed Me When You Had The Chance
15. Since U Been Gone
16. Why Walk On Water When We've Got Boats
Review (wikipedia
) :
A Day to Remember (commonly abbreviated to ADTR) is a five-piece post-hardcore band from Ocala, Florida, signed to Victory Records. They are often said to have influences in many genres other than post-hardcore, including pop punk, melodic hardcore", and metalcore. The band's music has been described as "mixing death metal grunts with the brash melodies of pop-punk," and a cross between "bouncy pop punk chugging metalcore."
ada yang suka ? yuk obrolin ini band dimarih
The Plot To Bomb The Panhandle