From : Lancaster, Pennsylvania, United States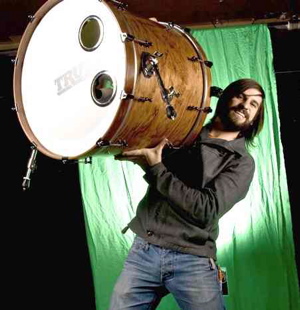 There are a galaxy's worth of metal bands active today. But stare at all of those stars long enough and some lines start to form; everything starts to take shape. The Constellations begin to bloom.
Just two years ago, Lancaster, PA's August Burns Red were, to the naked eye, just another young band jockeying for position in the modern metal scene. Then came Messengers, the band's 2007 full-length release for Solid State Records, and a new frontrunner emerged. Without hype, devoid of any smoke and mirrors, the album debuted at 81 on the Billboard charts, going on to ever-so-quietly sell more than 80,000 copies. Fueled only by the honesty and dynamism of the music, fans multiplied exponentially, driving ABR's MySpace plays well past the 17 million mark and flocking to the band's 2008 headlining tour – which included sold-out venues across the country.
Meanwhile, August Burns Red kept their heads down, conquering fans at Warped Tour, on the Take Action tour and at destinations from Dubai to Dallas, and increased their profile through placement of their beloved take on "Carol of the Bells" on the movie trailer for "The Spirit." The band also packed up their Phillies T-shirts and ever-present flip-flops and headed overseas for a tour of 12 countries throughout the UK and Europe. The star was shining bright. "It's extremely encouraging to see your band growing," says guitarist and primary songwriter JB Brubaker with characteristic modesty. "It helps keep you motivated and forces you to set the bar higher so that you can continue to grow and put out the best music you're capable of writing."
To that end – the band returned to the studio this past February to record its hotly anticipated follow-up with lauded producer Jason Suecof (Sevendust, All That Remains, Trivium). Fans flocked to the band's in-studio Stickam site by the tens of thousands to observe the band recording the album in real time. The result was Constellations, the third full-length offering from August Burns Red, set for release on July 14. A crushing metal tour de force, the album pushes ABR's trademark aural blitz into directions previously unexplored by the band. "We spread our creative wings a bit on Constellations," says JB. "But I can say for sure that this record will definitely be as unrelenting as our previous ones." Accenting the blistering guitar work and syncopated breakdowns that August Burns Red fans have grown to love are dynamics previously unexplored by the band. Constellations features more diverse tempos and cohesive song compositions than on previous ABR records, as well as the band's maiden voyage to the land of guitar solos.
"We've managed to push ourselves as musicians, as lyricists and performers," says drummer Matt Greiner. "As a whole, I feel like we're expanding, reinterpreting and refining our sound." That kind of sonic wanderlust has pushed August Burns Red since the members first united in 2003 while still in high school. Armed with fearless innovation, uncanny technical ability and an innate near-classical songwriting style, the band started turning heads immediately upon the release of its 2005 Solid State debut, Thrill Seeker. The band's 2007 sleeper hit, Messengers, minted ABR as one of the pacesetters of the next generation of metal bands. The band has already proven to be the type that gets kids to put down Guitar Hero and pick up an actual guitar – look no further than the number of bands on MySpace that list ABR as an influence. With Constellations, that swelling army of fans will make sure that there's a racket from day one. "I am probably as excited for Constellations to come out as our most diehard fans," Brubaker exclaims. "I'd like to think there is something for everyone on the new album."
Already one of the year's most anticipated metal albums, Constellations will make good on the promise of the past two years, and will serve as proof-positive that August Burns Red's success is no mere solar flare-up. This supernova's here to stay.
August Burns Red (E.P.) -2003-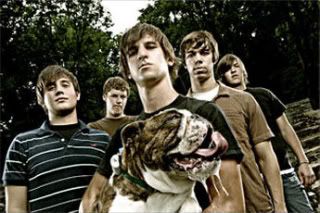 1. Silhouette Of Wings (2:41)
2. Your Thoughts On What's Right (2:46)
3. Show Me How To Give In (2:28)
4. The krack From Which Gold Pours (3:44)
August Burns Red - Looks Fragile After All (E.P.) -2004-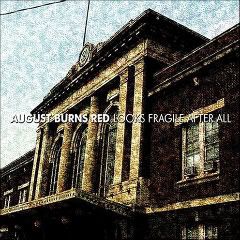 1. Background Music to Her Awakening (4:10)
2. Missing the Opportunity (5:29)
4. You Should Be Taking Flight Now (4:21)
5. Accidental Shot Heard 'Round the World (5:44)
August Burns Red - Thrill Seeker -2005-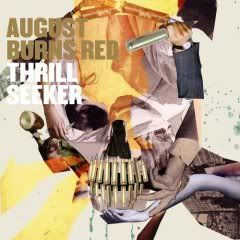 1. Your Little Suburbia Is In Ruins (3:58)
2. Speech Impediment (4:01)
4. Too Late For Roses (3:19)
6. The Reflective Property (3:51)
7. A Wish Full Of Dreams (2:58)
9. A Shot Below The Belt (4:10)
10. Eve Of The End (3:09)
11. The Seventh Trumpet (8:12)
August Burns Red - Messengers -2007-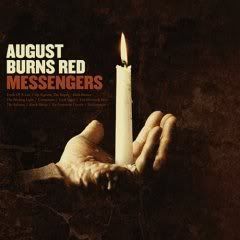 1. The Truth Of A Liar (4:12)
2. Up Against The Ropes (5:04)
4. The Blinding Light (5:28)
7. The Eleventh Hour (4:05)
10. An American Dream (4:41)
August Burns Red - Lost Messengers The Outtakes (EP) -2009-
4. To Those About To Rock
6. The Truth Of A Liar (Demo)
Constellations Album Trailer
Indonesia, lagu duka cita dari August Burns Red
Sekitar bulan July 2009, terjadi kecelakaan pesawat yang terjadi di wilayah Papua, Indonesia. Lagu ini bercerita tentang kehilangan seorang teman. Matt Greiner drummer dari August Burns Red bercerita tentang meninggalnya seorang teman yaitu David Clapper (ayah dari 4 anak yg sudah menikah 20 tahun), ia juga seorang misionari di daerah terpencil teman suku2 pedalaman di Indonesia.
- Matt Greiner -
Dengan mesin mati separuh pada pesawatnya, ia mencoba membawa seseorang yang terluka dari pedalaman untuk menuju rumah sakit terdekat, sekitar 4 jam perjalan dengan menggunakan pesawat. Setelah mengantar pasien terakhir pada hari itu sewaktu dalam perjalan pulang ia terjebak badai. Badai tersebut menghantam pesawat yg mengakibatkan jatuh ke daerah pegunungan dan mati seketika. Matt mendapat berita tersebut semalam waktu di gereja, ceritanya mirip sekali dari media di Indonesia memberitakan tentang kecelakaan pesawat tersebut. Tetapi ia tidak yakin. Namun ketika pada hari, berita itu semakin jelas bahwa yang meninggal itu memang kerabatnya yaitu David Clapper.
David Clapper
- David Clapper & Family -
Dalam 24 jam dengan perasaannya gelisah, dan tetap berserah dan berdoa pada Tuhan. Ia mencoba menulisnya, cerita tentang David Clapper seorang misionari yg meninggal karena kecelakaan pesawat di Indonesia.
This plane's going down in flames and this time
There's no black box to capture your last words
A situation we can't make any sense of
Sacrifice costs all of us everything
This is the time to turn down our heads and turn up our hearts.
There's no scale to (there's no scale to) balance this out.
Some say may those who curse days, curse this day.
There's no scale to (there's no scale to) balance this out.
Ouh! How does a man wrap his mind around eternity,
When he can't even (when he can't even)
Explain his own (explain his own) composition?
Don't you see it's bigger than you?
He sleeps in the mountains of Indonesia,
And the white on his flag brings colors to shame (colors to shame)
He sleeps in the mountains of Indonesia,
And the white on his flag brings colors to shame (colors to shame)
The earth will swallow the water. The clouds refill the oceans.
The earth will swallow the water and spit out.
The clouds will refill, refill the oceans.
The earth will swallow the water and spit out.
The clouds will refill, refill the oceans.
This plane crashed down in flames... (down in flames...)
With a man who lived, who died, to better this world.
He sleeps in the mountains of Indonesia,
And the white on his flag brings colors to shame (colors to shame)
He sleeps in the mountains of Indonesia,
And the white on his flag brings colors to shame (colors to shame)
http://www.mediafire.com/?nzmtwytzy5r